International College of Surgeons
United States Section
80th Annual Surgical Update
April 26 - 28, 2018
The W Lakeshore Hotel, Chicago, IL
644 N. Lake Shore Dr., Chicago, IL 60611
Click on the image below to see a PDF of the Program Registration brochure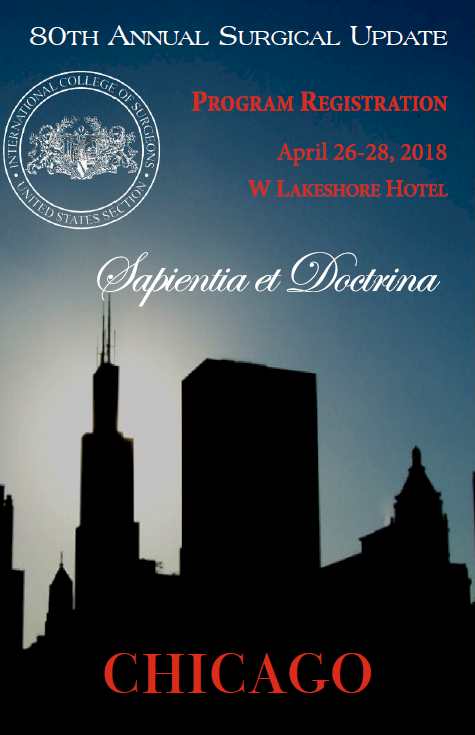 Click HERE to learn how to reserve your room at the W Hotel and register for the meeting.
An invitation from the President
Dear Colleagues,
It is my honor as your 2018 President to invite you to attend the 80th Annual Surgical Update of the United States Section of the International College of Surgeons. Our annual meeting will be held from April 26-28, 2018 at the W Lakeshore Hotel located in Chicago, just minutes from the Magnificent Mile. I also extend an invitation to the members of the American Academy of Neurological and Orthopaedic Surgeons who will once again be joining us for their 42nd Annual Scientific Meeting.
Sightseeing, dining, entertainment as well as top-notch education will all be part of the ICSUS 80th Annual Surgical Update in Chicago this April. We hope you will come early and spend a day or two after the conference to explore all that Chicago has to offer! We look forward to welcoming you to our home.
For this conference, we have brought together a cross section of practicing surgeons, young and fresh to practice and those who carry us back to our surgical heritage. Our speakers include those who have spent their entire career in academic surgery to those who have ventured into the world of private practice. Each is committed to sharing his and her surgical knowledge and wisdom. Having access to four medical schools also made the planning process extremely simple. We welcome faculty from Northwestern University, the University of Chicago, Loyola Medicine and the University of Illinois to our program.
The conference will begin with a discussion of surgery in rural and under served areas both within and beyond our borders. We will examine the impact of our current training paradigms and whether or not they prepare a new graduate for clinical practice. In addition to continuing our mission as a College to provide professional help to those in need, we will reflect on the ethics of our trainees in these unique situations. Our first day will conclude with a special treat for paid registrants as we participate in an architectural cruise down the Chicago River. Our Welcome Reception will feature heavy hours-devours and an open bar on a luxury vessel. Don't wait, register today as space on the ship is limited.
Friday brings us updates on colorectal surgery and vascular surgery from national and international experts who will be joining us from across the globe. We are pleased to welcome a surgeon from Pamplona, Spain who will discuss surgical trauma in the bullfighting ring. The afternoon will feature a mini-symposium on physician leadership, along with diverse topics in thoracic surgery. The day concludes with a resident research competition bringing us to the forefront of medicine and surgery from those who will succeed us in this noble profession. The evening is free for you to shop, dine, or perhaps enjoy a performance at the Chicago Symphony Orchestra.
Saturday begins with a selection of general surgery, hepatobiliary, and oncology program offerings. We follow with a plastic surgery symposium, reviewing the current status of face transplant, standardization of body mapping, and computer assisted techniques for reconstruction. The highlight of the morning will be the keynote address by Dr. Robert L. Walton, not only an international expert and pioneer in the field of nasal reconstruction, but whose contribution to international surgical missions is exemplary. In the afternoon we will explore various topics in trauma and conclude the day with what is always a spirited discussion in our annual Ethics forum. The evening features our black-tie gala banquet to strengthen our ties of fellowship across the globe and enjoy a beautiful view of Lake Michigan.
Our destination was chosen for this conference, because as a native of the city and having traveled the world over, I can confirm that Chicago is a world class metropolis and my kind of town! From its rich heritage of architecture, to organized labor, to development of the first self-sustained nuclear reaction there is no limit to the variety of people and places to visit during your stay. Hungry for a Chicago Hot Dog or Chicago Deep Dish style pizza? Just step out the door of the W Lakeshore Hotel and a short walk or cab ride gets you there. Interested in natural history? The Field Museum is a 15-minute taxi ride. How about the largest collection of French Impressionist paintings outside of Paris? The Art Institute of Chicago awaits you on Michigan Avenue. Catch everyone's favorite Chicago Cubs against the Milwaukee Brewers for a memorable day at Wrigley Field.
Chicago is a city of contradictions. The heart of the financial district is within walking distance of one of the worst tragedies in labor history, the Haymarket Riot. A city that immigrants came to build as a group, yet all lived in their own separate neighborhoods bringing their customs and traditions from overseas. Explore, enjoy, and marvel at the City of Big Shoulders.
Please watch your email in the coming weeks and also check our website regularly for more information about the program that is exclusively available online. Whether you know Chicago well or have never had a chance to spend quality time here, this is a perfect opportunity to discover everything there is to do in this beautiful city that the International College of Surgeons has called its home for more than half a century.
Francis J. Podbielski, MD
President, United States Section
International College of Surgeons
To view the latest version of the scientific program click HERE (last updated 2/23/18)
To review additional information related to the meeting click HERE!