Introducing
the 2024 President
of the
United States Section
of the
International College of Surgeons
Sivamainthan Vithiananthan, MD FACS FASMBS FICS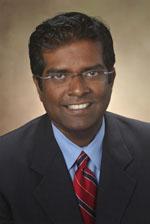 Sivamainthan (Siva) Vithiananthan, MD, is an academic, minimally invasive, robotic surgeon specializing in Bariatric and Metabolic Surgery. He is the Chief of Surgery at Cambridge Health Alliance, an affiliate of Harvard Medical School in Boston, Massachusetts. He is also a member of the Faculty of Surgery at Harvard Medical School, and an Adjunct Professor of Surgery, Clinician Educator at Alpert Medical School at Brown University in Providence. Before April 2021 he served as a Professor of Surgery, Clinician Educator at Alpert Medical School at Brown University, and was the Site-Director of the Brown Surgical Residency and Medical Student Programs at The Miriam Hospital in Rhode Island.
Dr. Vithiananthan received his medical degree from Columbia University's College of Physicians and Surgeons, and is board certified in general surgery and critical surgical care. He is fellowship trained in advanced laparoscopic surgery (Columbia) and Surgical Critical Care (Hartford Hospital).
He is a longstanding member of ACS, SAGES, ASMBS and IFSO. In the last decade, he led the changes in the bariatric surgical programs in Rhode Island's largest health system - Lifespan Health. He was chosen as one of the inaugural site-reviewers for the American College of Surgeons/ASMBS accreditation process for the Metabolic and Bariatric Surgery Quality Improvement Program.
Siva has partnered with the device Industry for innovation in new surgical techniques for treating obesity. He is a co-author of multiple patents that came out of this collaboration. He also serves on the editorial board of the Journal of Surgery of Obesity and Related Diseases. He is a Journal reviewer for other peer-reviewed journals such as Surgical Endoscopy and Obesity Surgery. Dr. Vithiananthan serves in leadership capacities in many national and international surgical societies and is invited to offer his expertise in training surgeons in many countries, including as the inaugural surgical ambassador from ICS to Nanjing Medical University in China. His research and leadership interest lies in mobile technology and surgical patient preparation, quality improvement and safe surgery through technology, and health care disparities. Dr. Vithiananthan received over a dozen teaching awards and AOA recognition as faculty.
Dr. Vithiananthan has been a member of the International College of Surgeons since 2001 and has held various leadership positions in the US Section and the ICS World Body (currently Governor). He is serving as the President Elect of the US Section and Chair of the CME Committee in 2023. Siva was previously elected to Executive Council positions as Secretary and Vice President. He was also a Regent and Chair of the Board of Regents, as well as General Surgery Specialty Group Chair and Chair of the Council of Specialty Groups. He has also been appointed to various US Section Standing Committees over the years.
Dr. Vithiananthan currently resides outside of Boston with his wife Shyamala and their children Tulasi, Arthi and Seerohn.
His term as US Section President will begin on January 1, 2024.