Click HERE to see the virtual library of educational content.
Live Opportunities
84th US Section Annual Surgical Update
May 4 - 6, 2023
Hilton Palacio del Rio
San Antonio, Texas

Contact for US Meetings: Maggie Kearney
ICSUS Meeting and Publication Manager
Tel: 1.312.787.6274
Fax: 1.312.787.9289
Email: mkearney@ficsonline.org

Click on image for more information.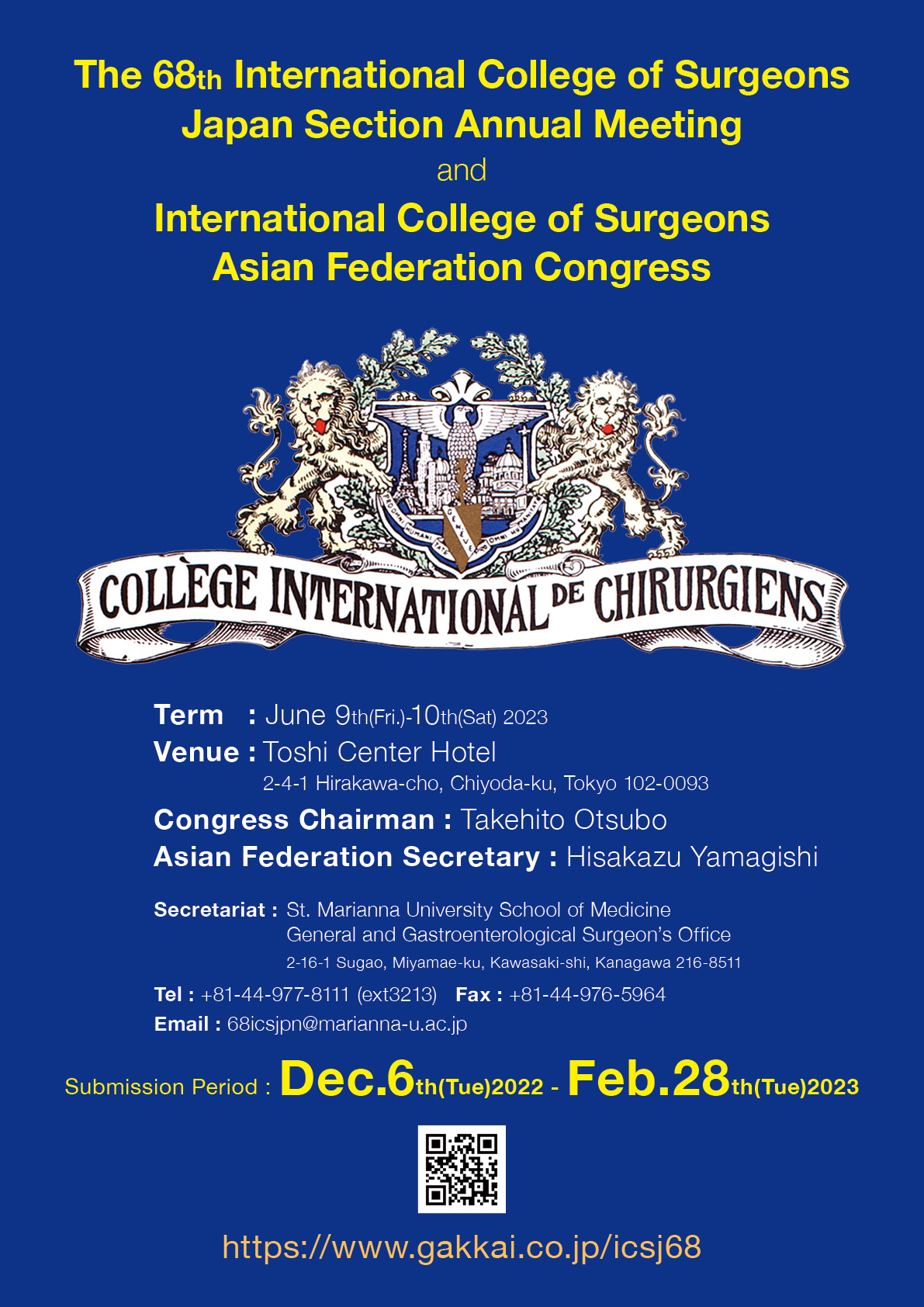 ICS Japan Section 68th Annual Meeting
and
Asian Federation Congress
June 9 & 10, 2023
Toshi Center Hotel, Tokyo
https://www.gakkai.co.jp/icsj68
ICS World Congress
November 8-10, 2023
Ankara, Turkey
www.icsglobal.org for more information
---



Virtual Content (not eligible for CME credit)
60 Minute Webinar Series: Colorectal Emergencies
Presented October 8, 2022
Click HERE for more information and to access the recording

ADDED (September 2, 2022)
Neurological and Orthopaedic Surgery Sessions from the 2022 Annual Surgical Update in Providence
Click here to view on our YouTube Channel
ADDED (August 7, 2022)
Opening Session from the 2022 Annual Surgical Update in Providence
Click here to view on our YouTube Channel
---
Superior Mesenteric Artery Compression Syndrome (28 minutes recorded PPT)
Provided by: Domingo T. Alvear, MD (ICSUS Regent and Member of the Board of Trustees)
Retired Pediatric Surgeon and Chairman of the World Surgical Foundation, Harrisburg, PA
Superior Mesenteric Artery Compression Syndrome (SMACS) is not well known by most physicians and surgeons. The surgical management is controversial. If anyone has questions, Dr. Alvear is willing to discuss them individually. If you have a case, he will be glad to help.
Presentation will include a history of SMACS, etiology, pathophysiology, clinical presentation, diagnosis, treatment options and institutional review. Click the following link to see the video on YouTube.
https://drive.google.com/file/d/1CXS6zvwn4a_ZMsF7Qn2rSi5071u33Uwo/view
Additional recorded PowerPoint presentations are available from the 82nd Annual Surgical Update in Minneapolis held in June of 2021. Included are sessions on:
Global Surgery and Surgical Mission Work
Physician Wellness and Ethics
COVID-19: Lessons Learned
Neurological and Orthopaedic Surgery
Clinical Telemedicine Around the World
Managing Trauma and Emergency General Surgery
Rural Surgery: Training and in Practice
The Influence of Robotics and Technology in Surgery
Visit the ICS-US Section YouTube Channel to see more information.