INTRODUCING
THE PRESIDENT-ELECT
OF THE
UNITED STATES SECTION
OF THE
INTERNATIONAL COLLEGE OF SURGEONS
FOR THE TERM COMMENCING JANUARY 1, 2023
Dixon Santana Aponte, MD, MPH, FICS, FACS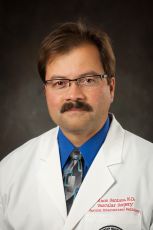 Dixon Santana Aponte, MD is board certified surgeon in General and Vascular Surgery who has been in both academic and private practice since the beginning of his journey in the art of surgery and patient care. His main scope of practice is related to the complexity of major vascular issues and conditions affecting adult and pediatric patients. His evolution in this field has allowed him to use specialized, high technological instrumentation and devices combined with traditional long-standing surgical techniques to every patient he has an opportunity to serve and help with their disease processes.
Dr. Santana completed his doctoral degree in medicine at the University of Puerto Rico in San Juan where he also completed his general surgery post-doctoral training. He moved to Salt Lake City, Utah where he completed his fellowship in vascular surgery. He decided to bring his expertise and skills back to the University of Puerto Rico where he started the Vascular Surgery section and assumed the training and mentorship of most of the residents at the time. He also dwelled into private practice at nearby hospitals with the mission of improving the overall quality of vascular care at the time in the region. This became the foundation for further trainees to become vascular surgeons and continue offering up to date, state of the art care in the region.
He currently holds an academic ranking as a Professor in Surgery at Texas Tech University Health Sciences Center in Lubbock, Texas his practice site for the last 20 years. He serves the patients of West Texas and Eastern, New Mexico providing advanced vascular and endovascular care.
Dr. Santana has been a member of the International College of Surgeons since 2008. Global Surgical Care was one of the main reasons to join and collaborate with this fascinating organization since he had collaborated with missions to Dominican Republic and Nicaragua. Since then he has been involved in the organization in different roles, several of which have helped shape the current state of the US section.
Besides his surgical passion he enjoys spending time with his family; wife, son and two daughters. He enjoys outdoor activities, cycling, scuba diving, hiking and water sports being his favorite sports. He enjoys Afro-Caribbean and Latin jazz music.
Dr. Santana will officially assume the position of President of the US Section of ICS on January 1, 2023.