Dr. Domingo Alvear was recently selected to be a recipient of the 2015 Ellis Island Medal of Honor. The Medal will be presented to him on Saturday, May 9th on Ellis Island during a ceremony that will include other distinguished Americans.
The Ellis Island Medal of Honor is an American award founded by the National Ethnic Coalition of Organizations (NECO) which pays homage to the immigrant experience and the contribution made to America by immigrants and their children. The medals are awarded to native-born and naturalized U.S. citizens.
The medals were established at the time of NECO's founding in 1986; a ceremony is held each May on Ellis Island. All branches of the United States Armed Forces traditionally participate. Both the United States House of Representatives and United States Senate have officially recognized the Ellis Island Medals of Honor, and each year's recipients are read into the Congressional Record. The Great Hall where immigrants were once processed hosts the gala dinner which follows the ceremony. Approximately 100 medalists are honored each year. Past medalists include six Presidents, as well as Nobel Prize winners and leaders of industry, education, the arts, sports and government.
---------------------------------------------------------------------------------------------------------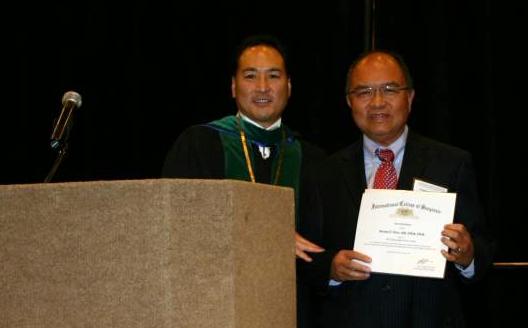 On June 9, 2012 ICS Fellow and founder of the World Surgical Foundation, Dr. Dom Alvear was honored during the Convocation Ceremony in Atlanta for his outreach activities. Dr. Alvear, a pediatric surgeon who practices in Harrisburg, PA, was the recipient of the ICSUS Humanitarian Service Award, which has been sponsored by Pfizer for the past three years. This award recognizes individuals who exemplify the ideals of the ICS and its humanitarian goals.
Since its inception in 1997, the World Surgical Foundation and Dr. Alvear have organized volunteer teams of surgeons and support staff that bring equipment, medications and care to the Philippines, Thailand, Ethiopia, Haiti, India and Honduras. These teams typically complete 25 to 40 surgeries a day over a 7 to 10 day period. The World Surgical Foundation (WSF) promotes continued patient care and medical self-reliance by teaching local physicians surgical techniques and showing them how to use the donated equipment and supplies that remain at the local hospital after the mission ends.
Since 2006 the ICS-US Section has collaborated with the WSF and ICS members have joined this group annually since 2009. Most recently (February 2012) Dr. Alvear and the WSF have traveled to the Philippines as part of a sanctioned ICS Surgical Team. Future plans include a mission to Honduras in October, India in January of 2013 and then back to the Philippines in late February of 2013.
Congratulations to Dr. Alvear!
----------------------------------------------------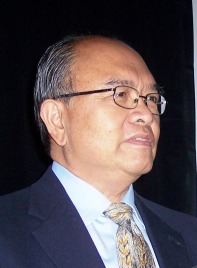 Domingo Alvear, MD
Pediatric Surgeon
Harrisburg, PA

ICS Fellow and founder of the World Surgical Foundation with which ICSUS partners on medical missions, Dr. Domingo (Dom) Alvear was recently the subject of an ABC news story that can be viewed by clicking the links below. Dr. Alvear took a team to Honduras Nov. 6 to 13, 2010 where they found conditions that had deteriorated since their last visit. Visit the World Surgical Foundation website for more information about Dr. Alvear's humanitarian projects. www.worldsurgicalfoundation.org
http://www.abc27.com/global/category.asp?c=189669&clipId=5276167&autostart=true

http://www.abc27.com/global/category.asp?c=189669&clipId=5294250&autostart=true

http://www.abc27.com/global/category.asp?c=189669&clipId=5301734&autostart=true