Sharique Nazir, MD, FICS, FACS, FASMBS
Board Certified General Surgeon
Dr. Sharique (Shaq) Nazir is a New York City based, board-certified robotic, laparoscopic and Trauma surgeon, who has been recognized nationally and internationally as a leader in his field. His areas of expertise include weight-loss, Hernia and Trauma. An attending surgeon at the NYU Langone Medical Center in Brooklyn, he is a proud Fellow of the American College of Surgeons, American Board of Metabolic and Bariatric Surgery and the International College of Surgeons.
Nazir joined ICS in 2015 and immediately became active in the organization. He currently serves as the Chair of the Trauma Specialty Group and is a Vice President as well as Regent for New Jersey/New York. In 2017 Dr. Nazir was honored for his recruitment efforts on behalf of ICS during the US Section's Annual Meeting in Seattle when he was presented with a certificate of appreciation by Dr. Bryan Butler, Vice Chair of the Board of Regents at the time.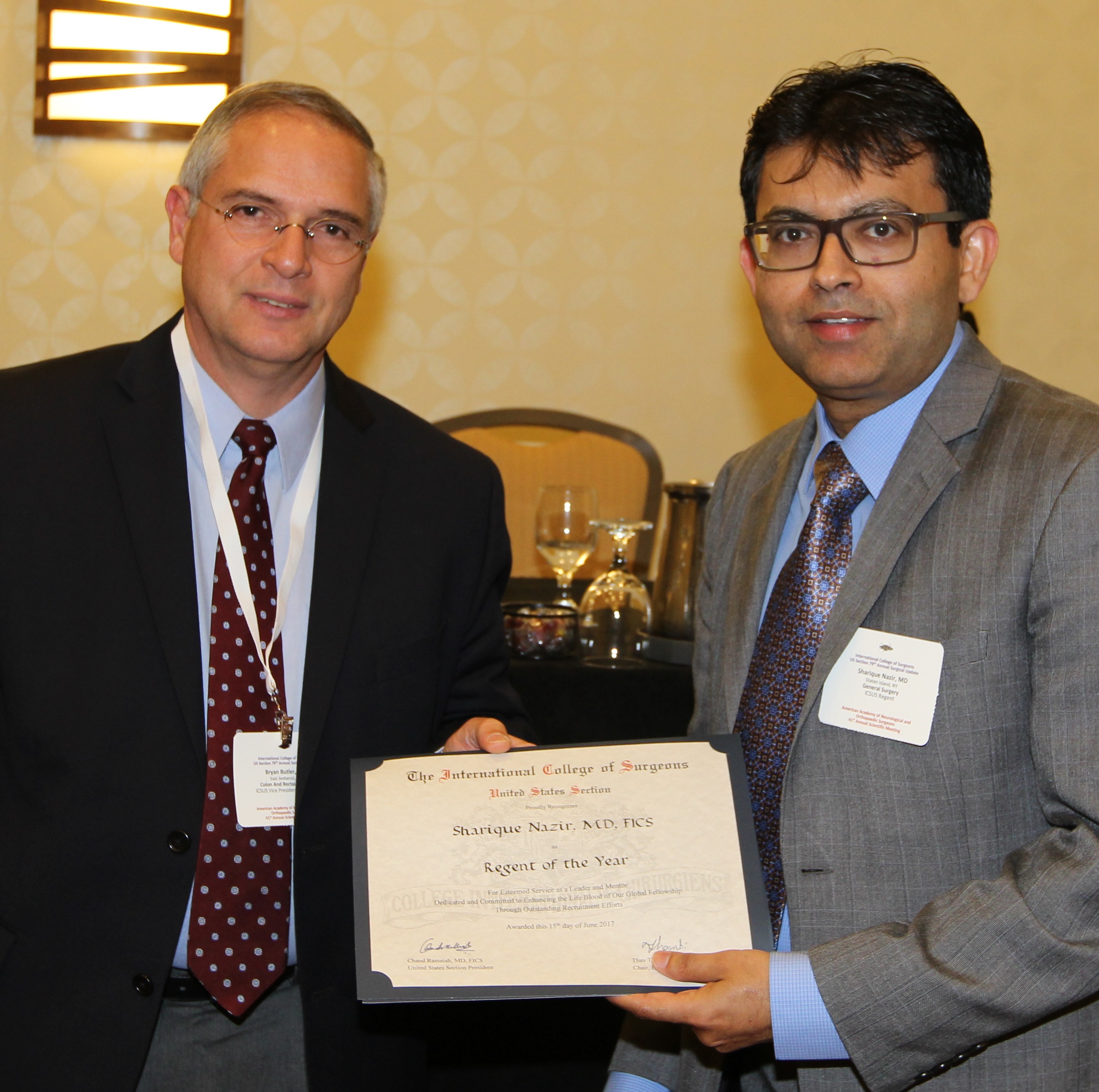 Born in India, Dr. Nazir received his medical degree, graduating with honors, from Fatima College of Medicine in Manila, Philippines. His post-graduate training at NYU Lutheran Medical Center in Brooklyn included a fellowship in minimally invasive surgery/bariatric. He also did post-graduate training at Leeds Teaching University Hospital in England and pre-med at the Moscow Stemmatological Institute.
Since 2013, Dr. Nazir has served as the Honorary Police Surgeon for the New York Police Department and New York State Troopers. He is also Associate Professor of surgery at St. George's University School of Medicine and NYU School of medicine.
Dr. Nazir has published in multiple peer-reviewed journals and presented at many national and international medical conferences for his work and research in the surgical field. Among many awards for his achievements, he feels a deep connection to the neighborhood where he practices and is very proud to have been honored with throwing out the first pitch at Brooklyn Cyclones Stadium in 2015.
Shaq is not only passionate about applying advanced innovative surgical techniques to improve patient outcomes, but also making sure his patients are well informed about their procedures. As a dedicated surgeon and educator, he takes care to address all his patients' questions and concerns.
Most recently Dr. Nazir launched a YouTube channel where he will post educational content on medical topics of interest. Click the following link to see his introductory video and subscribe. (https://www.youtube.com/watch?v=dYKTWmmPicU)