Introducing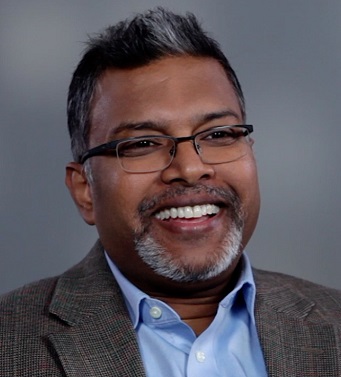 THAV THAMBI-PILLAI, MD, MBA, FICS, FACS
PRESIDENT
United States Section of the International College of Surgeons
For the term commencing January 1, 2021
Dr. Thav Thambi-Pillai is a Professor and Vice Chair of the Department of Surgery at the Sanford School of Medicine in Sioux Falls (University of South Dakota). He completed his medical degree at the National University of Ireland in Galway. During this time, he received the prestigious Health Research Board (HRB) national scholarship to do an Honors degree in Anatomy. Subsequently, he moved to Dublin, Ireland to start his surgical training at the Royal College of Surgeons in Ireland.
Thambi then continued on with his surgical training at the Hospital of the University of Pennsylvania followed by the Drexel School of Medicine Graduate Hospital in Philadelphia. Post-residency, he completed a year of Human Islet Transplantation fellowship at the University of Pennsylvania followed by abdominal multi organ Transplant and HPB fellowship at the University of Cincinnati in Ohio.
Dr. Thambi grew up in Sri Lanka, an island nation in the Indian ocean and completed his high school in Botswana in Southern Africa. He has a unique background in that he has studied and worked on four continents!
Upon completion of his fellowship training in 2006, Dr. Thambi joined the Wright State University and Wright State Physicians as an Assistant Professor of Surgery and Associate Director of Transplant Service at the Miami Valley Hospital in Dayton, Ohio. In 2010, Dr. Thambi moved to Sioux Falls, South Dakota to be the Surgical Director of the Sanford Transplant Center and Associate Professor of Department of Surgery at the University of South Dakota Sanford School of Medicine (USD SSOM).
He is the founding Director of General Surgical Residency Program at the USD SSOM and Sanford Health with focus on rural surgery. Dr. Thambi currently has an active HPB practice and takes general surgery/trauma calls with his group, Sanford Clinic Surgical Associates. While continuing on with his busy clinical practice, He also completed his MBA with health care focus at the St. Thomas College in Minneapolis in 2015.
Dr. Thambi joined the International College of Surgeons in 2006. He was elected a Vice President in 2011, a position he held until 2015. He was also appointed as Regent for SD in 2014 and still holds this position. He also served as a Representative at Large in 2016 & 17 as well as Chair of the Board of Regents in 2017. He was elected as the 2018 US Section Secretary and the 2019 Treasurer prior to becoming the ICSUS President Elect in 2020. He has also served on various Standing Committees of the ICSUS such as the Membership Committee, the Honors Committee and the CME Committee.
Thav and his wife, Abi enjoy traveling both within the United States and overseas with their three sons. His passion outside of work is in global health. Dr. Thambi-Pillai along with his friends co-founded a 501(c)3 charity, the International Medical Health Organization (www.TheIMHO.org) in 2003 and have funded nearly $6 million worth of health care related projects around the world, mainly in the war-torn and 2004 tsunami affected areas of Sri Lanka.