Dr. Vijay Mittal receives the "Fulbright-Nehru Distinguished Chair"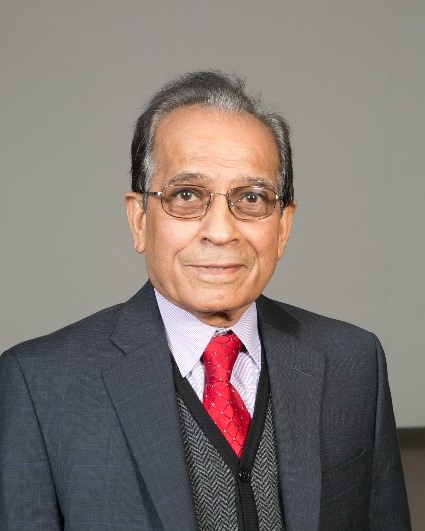 The United States Department of State Bureau of Educational and Cultural Affairs and the J. William Fulbright Board awarded Dr. Vijay Mittal the Fulbright-Nehru Distinguished Chair for Surgery and Surgical Education in recognition of being a surgical educator, leader, mentor and an eminent scholar in education globally. This award is in collaboration with the Government of India and the United States-India Education Foundation (USIEF). This is the most prestigious award given by the Department of State under the umbrella of the Fulbright Board, along with the Government of India and USIEF. Only 30-40 distinguished scholars in 185 countries in educational, political, cultural, economical and scientific fields are recognized this year. This award is rarely awarded in the field of medical sciences.
The present Fulbright project will improve educational systems in developing and developed countries by implementing processes to address areas of disparity in surgical education identified in the previous Fulbright award (see below). Once the education systems of these countries are on par with the United States, candidates from various countries could possibly receive full reciprocity and avoid the burden and stress of repeating their education in the United States, provided they have fulfilled all the requirements of the Accreditation Council for Graduate Medical Education and the American Board of Surgery. Furthermore, this project will benefit the United States economically by not retraining previously-trained surgeons, since the cost to retrain each physician is $1 million over a five-year period. Finally, the issue of surgeon shortage may be alleviated in the United States.
Dr. Mittal completed his medical education at Amritsar Medical College followed by surgical residency at Post Graduate Institute of Medical Education and Research in Chandigarh, India. He later joined the faculty at the same institution and participated in the first kidney transplant at PGI in 1972 in India. He came to the United States in 1974 where he did his surgical residency and fellowship in transplantation at Mt. Carmel Mercy Hospital, Detroit, Michigan. He started his practice in general, vascular and transplant surgery in 1981. He was Director of the Pancreatic Transplant Program and Associate Director of until 1993. He has been directly involved with surgical education since 1975. Dr Mittal joined Providence Hospital in 1988 and became the Program Director for General Surgery in 1997. Dr. Mittal is a member of various surgical societies including American College of Surgeons, American Society of Transplant Surgeons, Association of Program Directors in Surgery, Western Surgical Association, Midwest Surgical Association, AHPBA, IHPBA, SAGES, SESC, ASE, International Society of Transplantation, and a founding member of the Transplant Society of India. Dr. Mittal's scholarly activities include greater than 260 published articles in peer review journals, more than 400 paper presentations, video presentations, multiple visiting professorships and 18 book chapters. Dr. Mittal is the senior editor of Comprehensive Textbook of Surgery and American Journal of Robotic Surgery. He is on the editorial board of many surgical journals. He has received multiple research and teaching awards. He has delivered many guest lectures/ orations at various institutions and conferences internationally.
Dr Mittal was the program director of the General Surgery Department at Ascension Providence Hospital for over 25 years. He established the Simulation and Education Center at Providence, where he was the Surgical Director. He was the Chair of Surgery for Southeast Michigan Center of Medical Education for the past two decades. Dr Mittal was the President of the Michigan Chapter of American College of Surgeons, International College of Surgeons US Section, Academy of Surgery of Detroit, Detroit Surgical Association, and Indo-American Surgical Association. Dr Mittal was recently bestowed with an Honorary Fellowship by the Associations of Surgeons of India, for his leadership in surgical education. Recently, Dr Mittal was elected as the Governor for the American College of Surgeons representing the state of Michigan. He is presently a Professor of Surgery at the Wayne State University School of Medicine, and Michigan State University College of Human Medicine.
---
Fulbright Distinguished Scholar, Dr. Vijay Mittal, to look at standardizing surgical education globally (2014).
Vijay Mittal, MD, knows first-hand what it's like to emigrate to the U.S. after completing surgical training in India. "Surgical training in other countries isn't recognized in the North American system. So when I came here in 1974, after practicing as a general and transplant surgeon for three years in India, I had to start all over," said Dr. Mittal, Program Director of General Surgery Residency Program at Providence Hospital in Southfield, MI. "I had to do a surgical residency and fellowship in Detroit, as if I was just out of medical school. My education and experience in India was not recognized ."
As a recipient of the U.S. Department of State's Fulbright Award , Dr. Mittal will focus on changing this situation. His proposal to the Fulbright Commission , titled Global Surgical Education Evaluation and Uniformity, is one of only 40 that earned their authors Fulbright Distinguished Scholar Awards in Teaching and Research, considered by many the most prestigious appointment in the Fulbright Program.
Dr. Mittal's Fulbright project will take him to India, where he will work with other surgical educators to enhance the country's surgical training curriculum to bring it in line with the United States. "People who intend to return to India after training in the U.S. often fail. This is because they're not trained in the same system in which they'll eventually practice," said Dr. Mittal. "In India, there are different disease processes, different resources, different technology, and different socio-economic considerations that confront young surgeons when they return. It's critical that their training involve the same group of patients and pathologies they will someday manage."
U.S. Sen. William Fulbright founded the Fulbright Program in 1946 to increase mutual understanding and respect between the U.S. and other countries, and today more than 155 countries participate. Fulbright scholars are seen as 'cultural ambassadors' to their host countries, and are expected to be active, involved members of the communities they visit. Fulbright alumni include 43 Nobel laureates, 78 Pulitzer Prize winners, 10 U.S. Congressmen, 18 government heads of state, and our Secretary General of the United Nations. In addition, the Fulbright Commission has also awarded other individuals such as Colin Powell, Bill Clinton, Jimmy Carter, Desmond Tutu, Nelson Mandela, Vaclav Havel, and Kofi Annan for international understanding.
The newly formed College of Surgeons of India, at the All Asian Institute of Medical Sciences New Delhi, will support Dr. Mittal's effort. "The College of Surgeons of India intends to create a national organization similar to the American Board of Surgery in North America, which centralizes evaluation of surgical education and certification. Together we will examine the strengths and weaknesses of India's current surgical education system in comparison to countries like Great Britain and the U.S., and work to develop a standardized approach."
"It will be useful to both Indian and North American educators to share processes and information. Recently the Accreditation Council for Graduate Medical Education has established an international rotation for U.S. surgical residents and this will also create an interest in the exchange of residents and faculty members between our two continents." Dr. Mittal was recently approved by the ACGME for this new rotation between Providence Hospital and New Delhi's All Indian Institute of Medical Sciences. . He hopes eventually to launch a similar exchange program for faculty members.
Dr. Mittal was born in India, and graduated from India's Amritsar Medical College before completing a surgical residency at PGI Chandigarh, where, in 1971, he did the first kidney transplant. He has spent the last 35 years in the U.S. practicing general, vascular and transplant surgery. He is a well known surgical educator nationally and internationally. He has served as president of the International College of Surgeons, Detroit Surgical Association, Academy of Surgery of Detroit, and is presently president of the Michigan Chapter of the American College of Surgeons. In addition, Dr. Mittal has been a long time chair of the surgical education committee of Southeast Michigan Center of Medical Education consortium.
As he proposed in his Fulbright project proposal application, he will spend four months in India over the next year visiting five major postgraduate institutions and five private hospitals to compare their medical schools to compare their medical education programs. "In India, postgraduate surgical training lasts three years, compared to five or six in the U.S. And just within India, different institutions have different processes for education and certification. We hope to lessen the various disparities."
Having worked with surgical residents in the U.S. for 25 years, Dr. Mittal is proud to capitalize on his experience for the good of his current and past homelands. "I want to give back to my home country something of value," he said. "I hope to help eliminate obstacles for future Indian surgeons. I realize there are many differences between the two systems, and I wish my Fulbright project will help us move closer to parity."