THE 2019 DR. ARNO A. ROSCHER ENDOWED LECTURE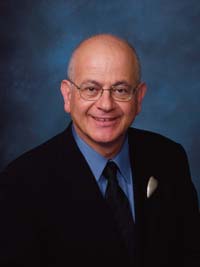 Dr. Ara G. Tilkian presented the Dr. Arno A. Roscher Endowed Lecture, How to Slow, Stop or Reverse the Aging Process, during the Opening Session on May 2nd. Dr. Tilkian was born in the village of Kesab, Syria. He spent a formative year in Missoula, Montana as an American Field Service Exchange Student and graduated from Missoula County High School with membership in the Alpha Omega, Alpha Honor Society. He attended the American University of Beirut, Lebanon and was recognized as an outstanding freshman and graduated with a Bachelor of Science degree with Distinction. He received his MD degree with Honors at the University of Illinois in Chicago. Post graduate training included 5 years at Stanford University Medical Center where he completed his cardiology
training.

Dr. Tilkian moved to Los Angeles in 1975 and has been an active member of Cardiovascular Consultants Medical Group since then. He has been the director of the Cardiology Program at Providence Holy Cross Medical Center in Mission Hills, California since 1989. Dr. Tilkian has been on the clinical faculty of UCLA Medical Center and continues to participate in the teaching of cardiovascular fellows.
He has published over 20 abstracts and articles in peer review journals, and has written two textbooks in cardiology. He is board certified in internal medicine, cardiovascular disease and interventional cardiology. Dr. Tilkian has a special interest in the History of Medicine. He is working on a book that explores what doctors have been doing for
the past 4000 years and what their dress code was!

He is also interested in Human Longevity. How long did people live in the past? What is the current expectation and how is Science and Medicine trying to extend Human Longevity?